When summer rolls around, the pool calls out to us. Why not take the plunge and enjoy a sunny day surrounded by water? Relaxing on an inner tube, showing off your perfect handstands, or making friends in the pool; whatever you're up to, having great swimwear can truly elevate your day. To assist you in achieving that ideal combination of looking trendy and feeling comfortable poolside, here you'll find an extraordinary selection of swimwear in one place. From twirly one-pieces that hug your curves, bikini sets with bright florals, to updated tankinis in daring cuts—dive into a world of fashion possibilities. Let's make sure that a perfectly sunny day at the pool will be even more enjoyable with your amazing new swimwear!
#1: Mara Hoffman Emma One Piece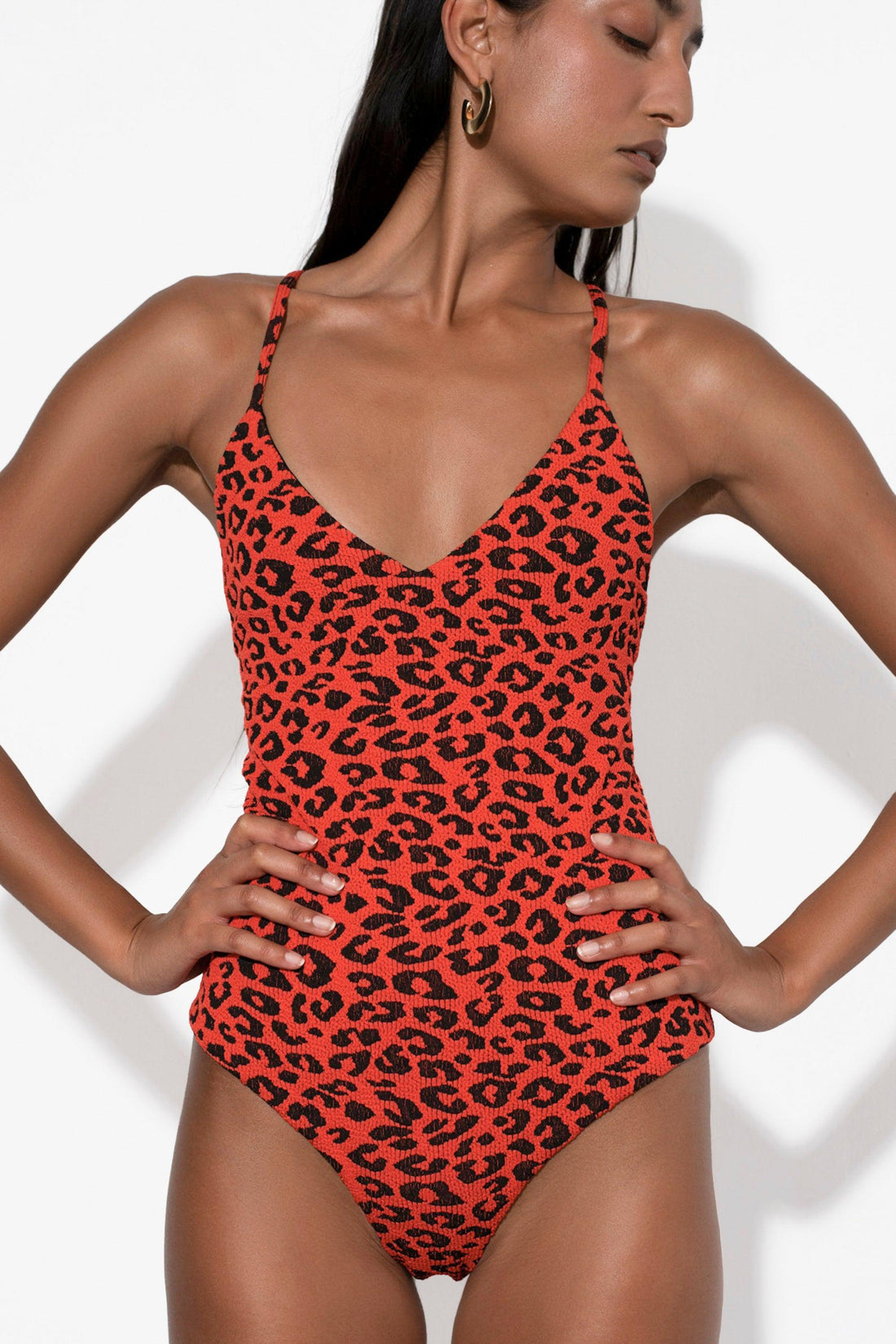 Make a statement this season with the new Emma One Piece from Mara Hoffmann. It has all the charm of a classic one-piece with the sleek sophistication of modern homage! Crafted with sustainable materials and equipped with UPF 50+ sun protection, you'll be setting trends instead of following fashion. Featuring crisscross spaghetti straps and adjustable self-tie closure, plus medium leg coverage for increased security, this luxe bathing suit will become your wardrobe essential. Its vibrant, textured red leopard jacquard pattern will ensure heads turn wherever you go throughout spring and summer!
#2: Best for Large Busts: Summersalt the Marina
Summersalt's Marina One Piece offers the perfect blend of style and support. It is designed to perfectly hug your curves for a custom-tailored look. Its modern color-blocking swirls, in combination with bold contrasts, are sure to turn heads. Plus, the added assistance from adjustable straps and built-in bra cups provides additional comfort for larger bust sizes without compromising on trend or style. With the Marina One Piece, you can go wild in the waves or layout chicly by the pool. Summersalt has got you covered no matter what your heart desires!
#3: Robin Piccone Ava Scoop Neck Mio One-Piece Swimsuit
Yes, the Robin Piccone Ava Scoop Neck Mio One-Piece Swimsuit is a classic design but far from ordinary. Its ample scoop neck and figure-flattering fit give the elongating impression of sleekness, which you can wear all summer long. With adjustable straps for extra support and soft cups that provide comfortable coverage, you can enjoy the sun without worrying about falling out! Adding to its wearability even further, its moderate back coverage offers a secure fit so you can splash around confidently. Its luxurious blend of nylon and spandex makes this one-piece swimsuit a must-have item sure to become your essential summertime staple.
#4: Best Belted: Zimmerman Tiggy plunge-neck swimsuit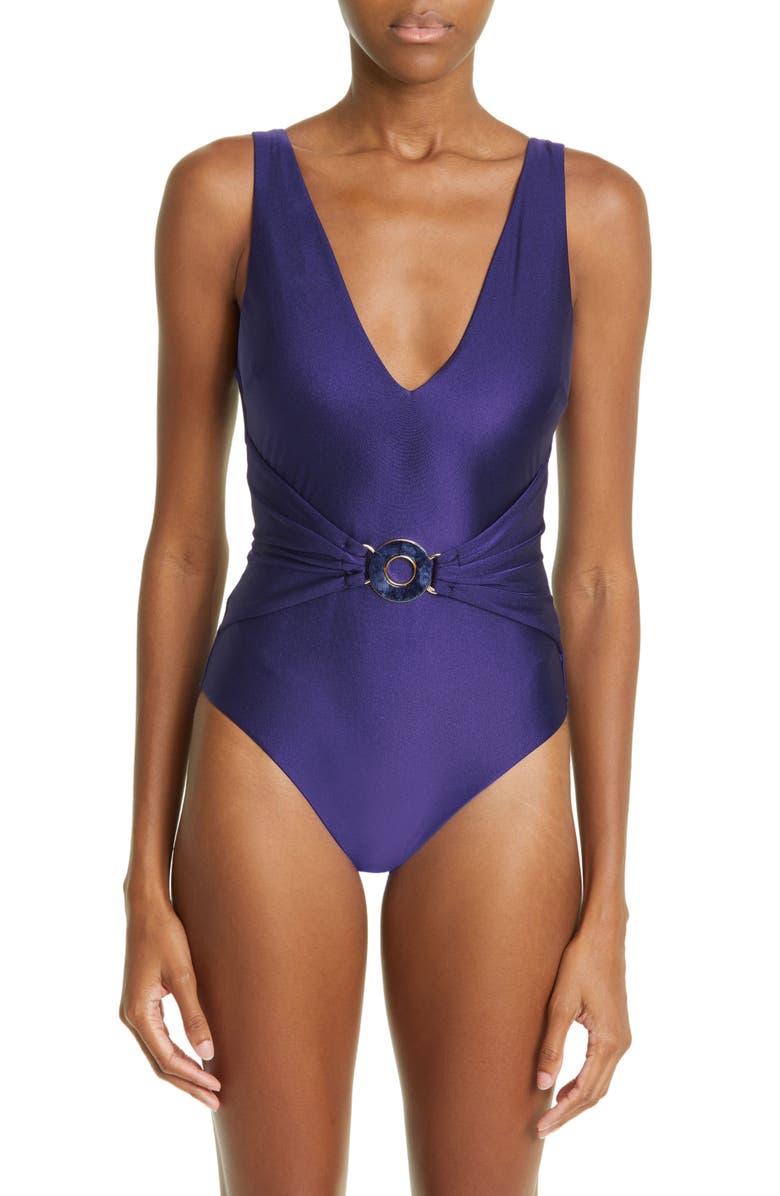 Searching for something eye-catching to sport at the beach or pool? Time to make an unforgettable statement with the Zimmerman Tiggy plunge-neck swimsuit! With its ravishing plunging V neckline secured by a striking tortoiseshell-patterned ring, this daring beauty was made to stand out. Also boasting adjustable straps, high cut leg, and gathered overlay detailing, this timeless one-piece will become your go-to for poolside lounging in style. Its effortless forms of sophistication can pair perfectly with chic summer accessories like a straw hat and fashion sandals. So next time you're heading out, don't be afraid to try something unique – you'll thank us later!
#5: Best Sporty: Skims Swim Zip Front Sleeveless One Piece
Get ready to take on the waves with confidence! Last but definitely not least, Skims Swim Zip Front Sleeveless One Piece is perfect for your next adventure. Designed for stylish movement and exploration, this ideal high crew-neck one-piece ensures you can adjust your coverage with its sleek front zipper closure. Show off as little or as much skin as you would like – so have fun switching up your look along the way. Feel worry-free thanks to the snug fit of this must-have staple, and enjoy its medium back coverage that ensures secure and comfortable movements no matter how big or small they may be!
No matter where your summer takes you, make sure you look your best with our selection of stylish swimwear. Whether it's trendy cutouts, bold colors, or modern silhouettes–there's something here that will make each day at the pool that much more enjoyable. Now let's dive in and explore what summer 2023 has to offer! Happy swimming!