St. Valentines day has its origins in the pagan customs of the third or fourth century BC and coincides with the Fertility Festival of Ancient Rome, over time the festival was Christianised and became a festival in celebration of love rather than lust.
In 1537 King Henry VIII decreed by Royal Charter that all of England would celebrate Saint Valentines Day on February 14 and most of the world now celebrates the day by exchanging cards and tokens of affection. Of course one of the most common gifts to give your lover on Valentines day is lingerie.
Why buy Lingerie for Valentines Day?
Valentines Day gifts should be intimate and special tokens of love. Lingerie perfectly matches that requirement, making the recipient feel special and bringing pleasure to the gift giver as well. A well chosen Valentines lingerie gift is also a thoughtful present, showing you have taken time and care in selecting something the recipient will appreciate.
What type of Lingerie makes the best Valentines gift?
While the obvious answer is "sexy lingerie!" Sexy doesn't necessarily mean skimpy thongs and barely there bras! A woman looks and feels her most sexy in flattering underwear which feels good against her skin, enhances her figure and is clearly high quality, we are confident that you will find what your looking for when you shop for lingerie online with Ennia Lingerie. Sensual and chic underwear that can be worn everyday, whether for a romantic meal out or to make her smile at work is a far more thoughtful present than a black feather trimmed baby-doll which will be worn once and then be buried at the back of a cupboard.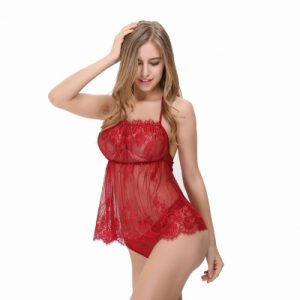 If you want to make the best of both worlds and buy sexy Valentines lingerie online which will also become an everyday favourite why not try a set of beautiful deep red Leavers lace lingerie such as our Grace Range, and add a sexy pair of Grace Garters to your order, or why not say it with flowers and order the beautiful rosy pink and very feminine set of Gabrielle Lingerie, and include a thong for special occasions as well as a pair of traditional panties for everyday? Gabrielle is currently on special offer so you don't have to spend a fortune to get exclusive, quality lingerie when you buy Ennia.
Also if you really want to impress you cannot go past the ever popular Ilisha set, a stunning Valentines lingerie set in fiery red and black and again made from the most exclusive lace in the world, Leavers. You can buy everything she will ever need in this range as there are two options available on the thong and panties and also you can include the wonderful suspenders and garters all of which are suited particularly to night-time wear and those special occasions.
The traditional colours for Valentines lingerie are red the colour of lust and passion, ( Ilisha, Sara, Samantha , Grace, Fiesta and Greta which was inspired by the fiery passion of the Flamenco itself), white with it's pure and innocent appeal Rebecca, Marianne, Rowena, Natalie and pink the traditionally feminine colour. Pink is also associated with Valentines day since the burial of St Valentine, when the Pink Almond Tree came into blossom.
One of our most romantic sets of lingerie has to be the Anna range in dusky grey with candy pink Leavers lace. This range has a comprehensive range of items including the cheeky shortie, the chic French culotte and a body top to die for. We also have some stunning pink sets in our sale items, the Lysette range and the Monique both feature the exclusive Leavers lace at unbelievable prices again proving that with Ennia you don't have to spend a fortune to get top European exclusivity.
You could consider buying lingerie in a colour to match a special outfit; the Danielle range is truly beautiful and comes in shimmering champagne, Hannah comes in a fabulous blue or Crystalle features stunning fresh green embroidery. We also have some fabulous ranges which feature subtle and delicate floral patterns such as the Alexa range with its tiny violet flowers or the Aphrodite with it's pale blue flowers giving it an ethereal quality which would not disappoint the goddess of love and beauty herself!