If you live by the beach or are vacationing near one, you know the importance of a versatile outfit that can transition seamlessly from the shore to the shops. Here are ten beach-worthy outfits that can be rocked on any hot summer day, whether you're on the sand or off.
1. Stylish Bikinis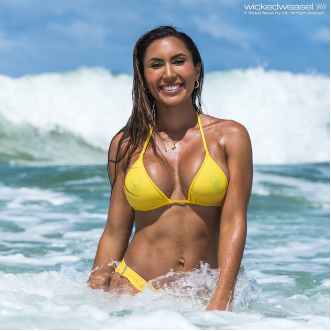 If you can't stand the idea of putting more layers on than necessary, slip into a super stylish bikini. Choosing one that is trendy and flattering will not only leave you feeling sexy and ready to sign up for the nearest bikini contest, but you also won't stand out in the crowd if you're off the beach and running errands in town.
2. Wrap Skirts
Also called sarongs, wrap skirts can be thrown on over your swimsuit to act as a cover-up. They are usually made from the sheer or lightweight material, which is perfect for any hot beach or summer day. You don't need to be on a beach to throw a wrap skirt on, though. They are versatile pieces of clothing that can be worn in almost any situation. Wear one casually throughout the day while you're in town, or dress one up for fancy beach cocktails later in the evening.
3. Maxi Dresses
Maxi dresses are the ultimate summer beach staple. They are flattering on every body type and can make anyone wearing them feel like a sexy summer goddess. Find a sheer one if you want to wear something that still shows off your rocking body, or go for one that's covered in a cool floral print. There are endless options available! Better yet, they look great during the day or at night when you're out for a sunset dinner.
4. Athletic Leggings
Leggings can be worn almost anywhere, no matter what. They are designed to be breathable and are perfect on hot days when you're running around. They were literally built to withstand sweat, heat, and activity, making them a perfect choice for fun in the sun.
5. Short Shorts
There is no better time to rock a pair of short shorts than on a hot summer day. They're sexy, they're fun, and you can do pretty much anything in them. Throw on a pair while you play a game of beach volleyball with your friends or while you're browsing shops along the boardwalk.
6. Tank Tops
If it's sweltering out, you want to wear as little as possible. Unfortunately, most public places require at least a shirt and shoes to receive services. This is where tank tops come in as a perfect summer and beach solution. They provide just enough coverage to appease the public but aren't heavy and restrictive on your body.
7. Mini Summer Dresses
Sure, maxi dresses are mostly associated with beachwear, but we can't forget about those sexy short sundresses. Sundresses are a flirty hot weather staple. It doesn't matter if you're headed to the beach or headed on a date—a sundress will look fabulous on you and make you feel fabulous too.
8. Swimsuits with Coverage
Not everyone feels comfortable wandering around in a small bikini. If you still want to head to the beach or town in minimal clothing without feeling overly exposed, consider purchasing a suit with more tummy coverage. There are tons of trendy one-piece options available that aren't just barely their strings and pieces of fabric. But don't be fooled—opting for a one-piece doesn't mean you have to sacrifice feeling sexy, empowered, and beautiful.
9. T-Shirt Dresses
Find a t-shirt long enough, and you can definitely make it pass for a dress! T-shirt dresses are super trendy right now because of how casual they are. Not only will you look cool in an oversized t-shirt, but you will also stay cool as well. There is minimal fabric involved, making them breezy and comfortable. Throw one over your bikini, or wear it without any swimwear! They look great either way.
10. Linen Pants
Maybe not the sexiest option out of the bunch, but there is a lot to enjoy about a good pair of linen pants during the warm summer season. If you find yourself in a situation where rocking a bikini won't cut it, throw a pair of linen pants on and you're covered—literally! You can keep your top exposed while still remaining modest on the bottom. Plus, linen is the most breathable material out there. They're perfect for the beach and those sizzling summer days ahead.