It's the swimsuit season! This means that it is time for an up-to-date wardrobe for those lazy pool days, weekends by the beach or traveling to an exotic island. Whether you plan to dip your toes into the pool or catch the sun out at the beach, a well-fitting swimsuit will prepare you for any activities during the warm weather. That being said, if you are blessed with a D cup chest, there are a number of dilemmas when it comes to shopping for a bathing suit. The most perplexing thing is to find swimsuits that actually support you without sacrificing comfort and style. Besides the fit, style and price factor, women with larger chests have to consider just how much support they need from the swimwear to keep comfortable. You really do not want the strap to snap when you are splashing in the waves or accidentally flashed your boobs due to wardrobe malfunction.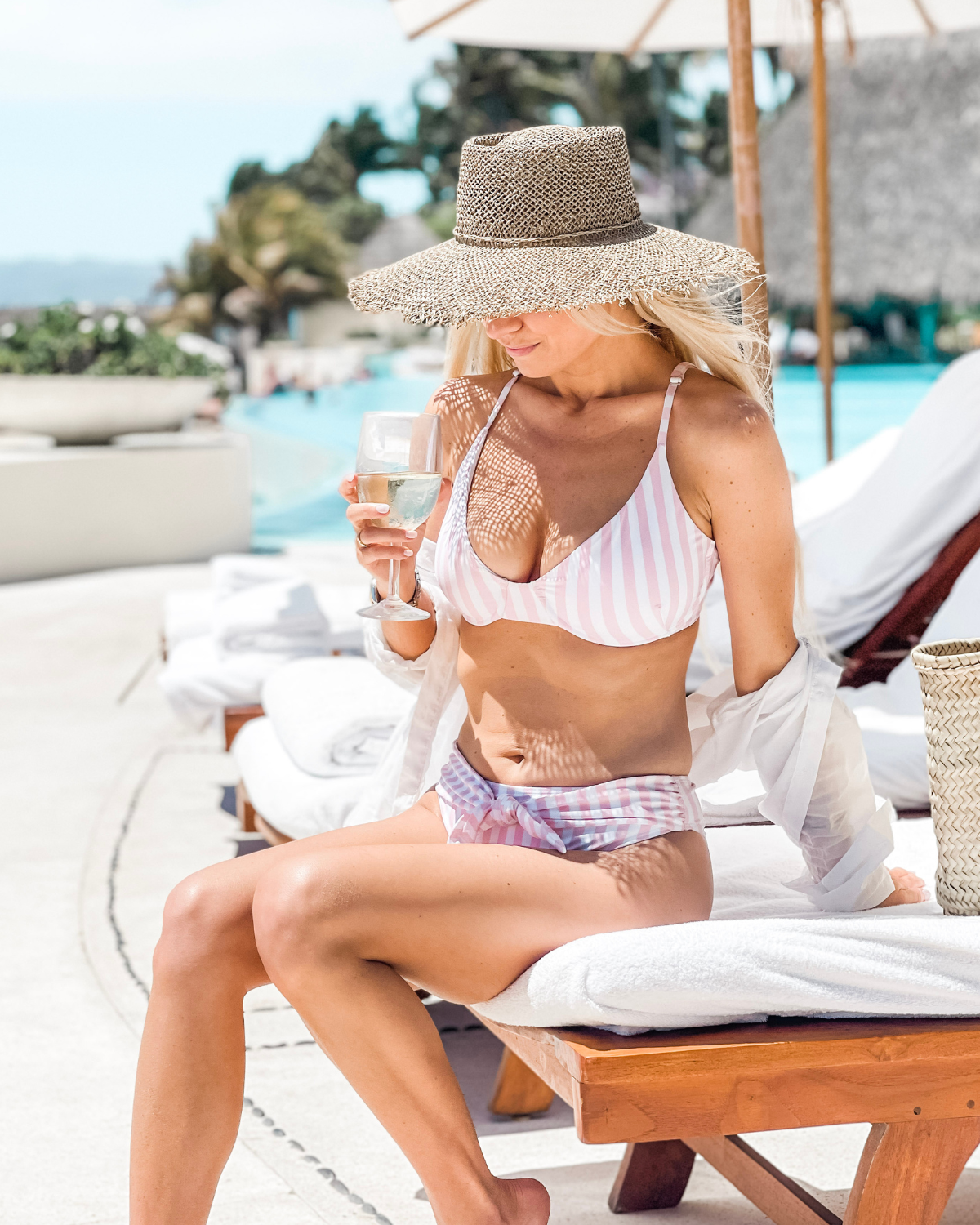 Well, there are some good news. Good quality and chic swimsuits for larger busts do exist. There are supportive and full-coverage bathing suits are out there that can strike a balance and make you feel like the star. It is important to find swimsuits that lift and shape your breast, and at the same time, keep the girls under control. No matter what kind of vibes you are looking for, here are the best 5 bathing suits for big boobs that you can add to your cart.
Bravissimocadiz Bikini Top
Looking for a swimsuit top that will have you feeling 100 secure? Channel your inner Baywatch moment in this sizzling hot red bikini. Complete with a snug, no-dig band and super soft straps, this balconette features a sweetheart front and plenty of side coverage. The straps will take the pressure off the neck and shoulders. The red balconette looks good on everyone and pairs well with any basic bottoms to create a fun mix-and-match.
CUUP The Balconette Swim Top
Here is another balconette swimming top that will have you ready for everything from beach volleyball to enjoying your cocktail under the umbrella. This balconette swims top from CUUP features wide-set straps and a lightweight underwire so you can feel supported and confident. CUUP brand has some of the sexiest and most supportive stellar swimwear with plenty of coverage. Available in different pretty shades, it pairs perfectly with high-waisted swim bottoms
Athleta Plunge Bikini Top D-DD
For those with a D or DD cup, then this is the swim top for you. This Athleta longline top offers light support and features a sexy plunging neckline with thick cross-back straps. It has an extra-wide bottom band that is soft, non-restrictive and moves with you. Available in three muted colors, this bikini top pairs perfectly with low or high-waisted bottoms. What's best about this bikini top is that it offers enough coverage so that you do not have to worry about spilling out. It can also double up as a crop top, so if you are going from the beach to happy hour at the bar, just slide on a pair of shorts or a sarong cover and you are all set.
Summersalt The Sidestroke
Summersalt Sidestroke brand is known for its compressive fit, super-flattering diagonal seams, full derriere coverage and last but not least, its impressive bust support swimwear. Boasting an asymmetrical one-shoulder neckline, this bathing suit features adjustable bust coverage and a curve-hugging silhouette. This Sidestroke is one of the best-selling swimsuits and offers optimum compression. It has earned a cult following, and if you have not tried it for yourself yet, then wait no more.
Lively The Swim Busty Bralette
Made with gorgeous busty women in mind, this Lively busty bralette swim top offers the perfect balance between sexy and supportive. Featuring adjustable straps, it has a soft liner and a supportive inner sling as well as a sporty band under the cups to keep you lifted without any pinching or digging. Made from recycled nylon, this bralette comes in three colors, and is best paired with high-waisted bottoms for a bit more coverage on the bottom. If you want to reduce your carbon footprint while looking fresh and supported, this is the swimwear for you.