Tired off the full-fledged makeup look? Despite how beautiful do heavy-duty makeups look, sometimes you need a breather. A natural look gives you a breather from the full glams and are light on the skin. A natural looking makeup look is glow and easy to be carried.
A natural looking makeup is quick and saves you time without compromising your style. It blends in every setting from office to a date night. Let us say, it is a safe option for every event. Moreover, natural looking makeup are also trending. We see celebrities donning these looks every other day, even their own weddings!
Do you also admire natural makeup looks? Here is a guide how to do a natural makeup look easily.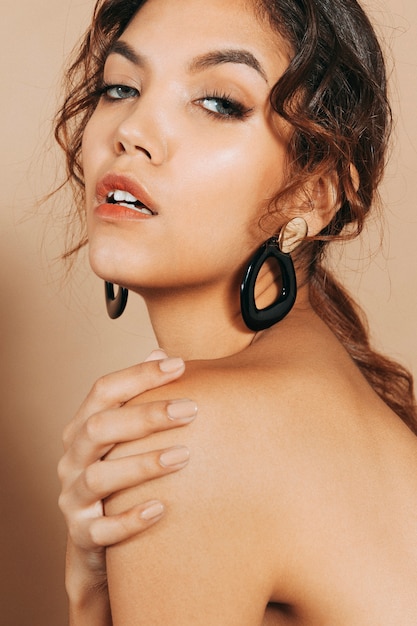 Prime first
Getting your skin's base strong and even is very important. Use a good primer as a first step to your makeup look. Priming your skin gives a balanced look and evens it out smoother.
It also minimizes redness and closes large pores to give a smooth look. Primers are also good moisturizers which give a hydrated look to your makeup look.
Use a Medium coverage foundation
A natural look is all about being non-cakey. So go for a medium coverage foundation that matches your skin tone. Makeup sure your chosen foundation is skin looking and buildable.
A medium coverage foundation covers your pores and blemishes by evening your skin color. It should do the job without being too loud about it, you get me?
Conceal light
Next step to a natural looking makeup is concealing the points that need more detail. Use a medium coverage concealer that matches your skin tone. The concealer acts as a highlighter too.
Do not over do the concealer with layers, add subtle layers.
Go for cream blush and highlights
Instead of using powder blush and highlighters use cream ones. Cream highlighter and blush give a soft and absorbed look to your makeup.
Cream highlighters and blushes are absorbent and subtle dewy look without spreading all over the face. Go for peachy shades in blush and silver shades in highlighters for a natural look.
Use a neutral eyeshadow
Achieve a dewy makeup look using neutral colors as your eye shadows. Do not over layer your eyeshadows. Build one layer, create a crease and then add the final shadow on top.
Go for soft browns, beige and pinks for your eyeshadows. Stay away from glitter if you are looking to achieve a natural makeup look.
Fill in brows
Make your brows in a natural looking shape with a brow pencil closest to your original shade. Use feathery strokes to fill the eyebrows and do not over-do them.
Give them a soft and sculpting look without being pointed.
Lipstick lock
Complete your dewy makeup look with a natural-colored creamy lipstick. A creamy pink color with matching makeup pencil outline gives a defined and natural makeup look.
Use a lipstick with a hydrating formula to keep it dewy and fresh.
Here were the ways to create a beautiful dewy makeup look that sits well at every party to office.