Speaking of underwear, presumably many girls are unfamiliar, it is a must have a daily style! For our women's breast health has a decisive role. Underwear structure is divided into shoulder strap, ribs, chicken heart, steel ring and side than. The preferred shoulder strap must choose a comfortable, otherwise the shoulder place will be particularly uncomfortable, before the basic are wearing a steel ring design, but now Xiaobian suggested that we still choose no steel bar! Because there is no steel ring, then for the protection of the total use of the breast, and wear it is also easy.
Underwear and underwear are belong to girls intimate items, in the choice must pay attention. Underwear choice to meet their own cup type, if you do not know their cup type, then choose to gather the design, so you can wear clothing business line effect, but also inclusive of the breast. While the underwear, then choose the texture of comfort, like a seamless design or cotton can be, so that you can give a very good privacy care.
No steel ring no trace bra
This bra is simple in a trace of sunshine and energetic, simple but not monotonous, delicate cut, just the color of the collision, to create a different kind of level of vision. Beautiful cup type has a good supporting role, the heart of the heart decorated with metal bow, highlighting the playful beauty, very elegant and nice. Behind the U-shaped back to the back of the United States a good sketch, to create a thin vision.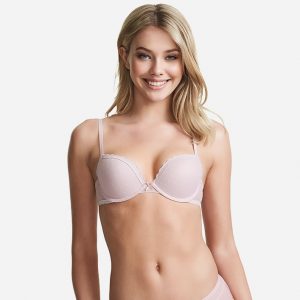 Lace thin section without steel bra
Fashion beautiful hollow three-dimensional plant pattern, to create a visual level of beauty, but also full of quaint feeling. Rope shoulder strap design, sexy with playful and age, very sexy little mood Oh! Careful consideration of the U-shaped back design, the back of the lines better modification and outline, to create a graceful posture curve. Deep V's design stretches the neck ratio, so that the neck looks more slim and nice.
Ice silk without trace in the waist underwear
Underwear is used ice silk hollow elements, piercing the feeling of fresh and comfortable, very breathable, very easy to wear up. Crotch place is the use of 100% cotton material, so you are very comfortable to wear. In the waist of the design of the waist lines will be a good outline of the live, wearing a relaxed sense of ease.
Pure cotton Seamless briefs
People look at the special like the underwear, simple and generous, the focus is fresh and charming. High-pitched personal design, wearing comfortable and comfortable, very tolerant of the body. Cotton collision spandex, soft stretch at the same time hip, feel comfortable cotton fabric, moisture breathable, so that the internal clean and comfortable, no tension of the uncomfortable. This kind of underwear is really good to wear.
Considering lingerie manufacturer china for women, wearing is not only comfortable and easy. Underwear on the basis of stylish appearance can wear clothing sexy fashion effect, so there is no reason to give up underwear it! In fact, women's breasts really want a good care, attention to health from the daily wear underwear began.