Undergarments have come a long way since the constricting, uncomfortable corset days of old. In the last century, through the influence of boundary-pushing designers and risk-taking celebrities, we've seen a super trend of the scantily-clad variety. We're not just talking crop tops and sports bras; we're unveiling the history behind the barest of essentials. Think: exposed lace bras, slip dresses and, yes, even nipple pasties.
How exactly did we get there? Let's look at the history of underwear as outerwear.
1500s Though it existed before this time, many believe Catherine de' Medici, queen of France, ignited what would be the undergarment trend for the next 300-plus years. She supposedly forbade thick waists at court. The tight-lacing system and boning did indeed help with support and waist reduction, but all we can imagine is that scene in Titantic when Kate Winslet's mom straps her in as she lectures her. Ouch! Luckily, today, the corset is worn for more sultry appeal with enough wiggle room to breathe.
1920s As hemlines got shorter during the early 1900s so did the undergarments. Instead of long chemises (a long tunic), women would wear teddies or camiknickers, a one-piece-bloomer hybrid. Once the Roaring lsquo;20s hit, the teddy got even shorter and more lightweight mdash;basically something similar to a modern-day romper.
1970s Disco short or hot pants became popular during this funky time period, but the trend is often attributed to English fashion designer Mary Quant, who first featured high-waisted short-shorts and mini-skirts in her collections in the mid- lsquo;60s. Today, you'll often see a pair on the likes of Katy Perry and Miley Cyrus.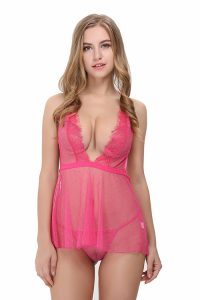 Late lsquo;80s Madonna was one of the first singers to hit the stage in cone bras, corsets or bustiers. Her shows were just as much about the risqu eacute; getups as they were about the performance. By the time Madonna hit her Blonde Ambition tour in the early lsquo;90s in an iconic Jean-Paul Gaultier pink corset and cone bra, underwear as outerwear was fully in, um, vogue.
1996 Public fascination with the late Princess Diana was always intense, but when she showed up to the Met Gala in a lace-trimmed John Galliano slip dress, plenty of young girls wanted to trade in their dream ball gowns for something a little more streamlined.
1998-2004 Before Gossip Girl, before the baggy, sheer tank and lacy bra trend of 2012, there was Carrie Bradshaw and all her wonderful, colorful and exposed bra straps and bralettes.
1999 The pasty mdash;a petal-shaped adhesive used to cover one's nipple mdash;was used but hardly spoken of in Hollywood hellip;until Lil' Kim shocked the world at the VMAs with what basically was a glittery pasty on one breast. The covering is usually still worn discreetly today but you will perhaps see exposed iterations at events like music festivals. Just make sure to watch out for flirty friends, likeDiana Ross.