Underwear can be said that girls are the most intimate little partner. But now most of the sister, whether it is flat chest or plump, facing the expansion, sagging, different sizes, chest down, deputy milk and other issues are due to your wrong underwear caused. So, different girls how to choose the bra?
Thoracic is flat type, that is, cup slightly smaller sister, we should try to choose 1/2 cup, because this underwear rounded cup face comfortable skin effect is good, so you can gather chest adjustable breast type.
And some chest upright, such as B, C cup sister, we must choose 3/4 cup or three-dimensional cup bra to enhance the character, enhance the chest line. Three-fourths of the cup underwear can be a full range of wrapped the entire chest, with the convergence of the chest and the role of deputy milk. While the three-dimensional cup will make your deep V filled with style and temptation, sexy and comfortable.
As for those on the Wai proud of the sister, we must choose the whole cup without steel bra to protect themselves, no steel ring design will not bring a sense of tight chest, make the chest more upright, the maximum show their own nice.
Xiaobian below for everyone to select several different glasses for girls wearing glasses underwear, you will love.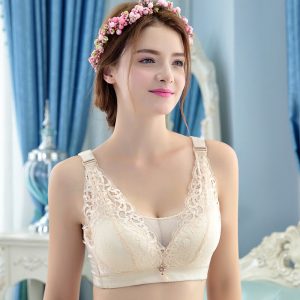 The United States back lace gather bra
Lace embroidery comfortable thin cup, just right wrapped in the chest, no steel ring design to wear more comfortable! 3/4 cup effectively gather the chest, sexy deep V show, more upright and charming!
Sexy lace half cup gather bra
The same color pattern lace in the cup surface meandering growth, soft feel people can not help but obsessed with one of the 2 cup cup gently put the chest, piercing the natural body lines, no steel ring to join, do not squeeze the chest, comfortable Gather the chest.
Lace no steel ring breathable bra
Europe and the United States wind 1/2 cup design is more suitable for small chest gather. Exquisite lace cup face both sexy and stylish. No steel ring is more soft and close. On the thin and thick to create a good support.
Seamless Brushed Adjustable Bra
Seamless steel ring design is just right fit the skin. Perfect gathers to better shape the beautiful breasts. Texture drawing more breathable, more soft. A piece of molding like no wear comfortable, very sexy and charming!
One piece gather bra
Three-dimensional steel-free design to bring it comfortable texture and excellent flexibility, the "second skin" interpretation of the most vividly. Close body sensation and visual impact are unparalleled. One piece of incognito design has a natural softness.
Anti-drooping gather deep V bra
The new print lace lingerie manufacturer design gives a very tempting impact on the visual. Net yarn fabric is more soft and breathable. U-type than after the body more comfortable. Sexy charming deep V carved out the charm of a woman!