Women on the choice of underwear is always a talk about the topic, and some women like thin, and some like to gather, and some do not know how to choose their own, because the so-called A, B, C simply do not understand ah Underwear selection is wrong, even the size of the wrong, then come in summer, wearing a thin clothes in the summer, other crush are beginning to show the body, and you will not choose their own size underwear, is not very panic?
How to choose underwear, first look at the chest and cup of measurement methods:
1, the first clothes off, easier to stand, feet close together, the body tilted forward 45 degrees.
2, the size of the ruler horizontally in the chest (prominent point), by the loose slowly tightened. The amount of time to use the hands of the breast gently hold up, as if wearing underwear. At this time you can easily measure your actual chest, and chest (breast at the bottom of the lines presented) can also be easily measured. P.S careful not to squeeze the nipple, the measurement action to be gentle.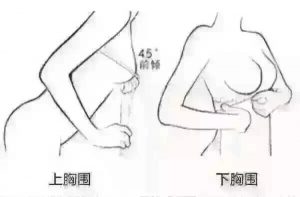 And here are two sizes, bust size and bust size, we must not confuse.
Talk about the bust size and the size of the lower bust measurement method: Bust size (usually said "on the chest"): to the two nipple point measurement points, with a soft leather ruler to measure the chest fullness of the week, that is, bust size. Bust size: the bottom of the chest with a soft leather measure the level of the next week, that is, under the chest size, under the chest size conversion (1 inch = 2.54 cm). So how is the cup? The next figure offer!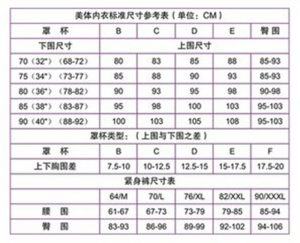 Then lingerie manufacturer know their own bust, you can choose according to their size for their own underwear.