Although the summer is going to pass, but the weather is still hot; summer is also nearing the end, but also to their own summer to add some color. To the seaside degree is a very good choice.
But when it comes to the seaside vacation, many people have made embarrassment. Harness is undoubtedly the best choice, sexy and beautiful together, there is the eye of the word shoulder dress ah.
But to wear them, this time a shoulder strap underwear is essential. Not only can show your charming shoulder, beautiful clavicle, but also the United States back.
Who said only the stars have the United States back, with no shoulder strap underwear, you will find their own back so beautiful. So that when the beach to play, I believe will get a lot of retention rate!
Today, to introduce some of the shoulder strap underwear, wearing a shoulder clothes, sling clothes must be a single product.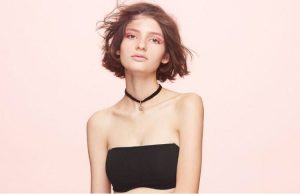 No strapless underwear. Plant flower pattern design so that this underwear adds a lot of sweet atmosphere. Not only in the non-slip, Bra-style bra design, Slim cut, Tube Top dress; intimate shoulder strap design, can be any with a coat, a dress to wear, elegant and noble sense of full.
No strapless underwear. Black lace design to create your sexy beauty. No steel ring design more care of your breast health. Gathered shape, but also fearless spring chic now. Featured high-quality fabrics, naturally no pollution, wearing a healthy and comfortable, touch your skin zero touch.
3. strap without shoulder strap underwear. This is no shoulder strap underwear design highlights it is the strap design, enhanced a lot of fashion sense. Deep V gather cups, with lace tie Tube, gather full of chest, wearing comfortable and breathable. No steel ring cup design exquisite, comfortable fabric, healthy care of your breasts.
4. Thin section without shoulder strap underwear. Black and ivory white style lace fabric, beautiful patterns, texture, the process is very delicate, and feel soft and flexible. Sexy deep V design, glamorous. Double anti-skid design, even jumping with fear will fall out. Can be adjusted size is not tight.
5. No shoulder strap adjustment underwear. Hollow design, not only breathable, but also to show a slightly reserved sexy. Matte mold cup inside, delicate and soft. U-shaped color division cup face, fashion wild, deep V design to wear more sexy. Soft steel ring design, moderate thickness, comfortable to wear, naturally care.
6. No shoulder strap gather underwear. One allows you to adapt to multiple with no trace of underwear. On the thin under the thick three-dimensional structure of the cup to enhance and push the chest type, both together and comfort and wrap force. No steel ring design to the sense of restraint to very low, not cock type. Anti-skid reinforcement buckle design, personal refused to decline.
7. No lingerie manufacturer shoulder strap underwear. Perfect interpretation of a small chest is also a sexy shoulder strap underwear. Ultra-thin cup design, let your skin feel zero comfortable, a dress skirt worn on the body, do the most relaxed oneself. Lace lace beautifully designed, full of girls feeling. The design of multiple straps is not only stylish but also non-slip.